Please be informed that Telekom Malaysia Berhad had announced that effective from 15th Jan 2008 , TMNet will block Outbound SMTP traffic on port 25 for all out going emails, causing Streamyx Dynamic IPs users might not be able to send out emails.

Only Outbound SMTP traffic from smtp.streamyx.com and smtp.tm.net.my will be allowed.

With this implementation, Streamyx customers who have their own mail server (eg. mail.owndomainname) will not be able to send e-mails.

Solution:
Please change your "SMTP Port" settings from Port 25 to Port 587 inyour Outlook/Outlook Express/Eudora etc.

Please Click HERE for the settings.



SETTING UP EMAIL CLIENT TO USE PORT 587

Outlook express
1. Start Outlook Express, click the Tools menu at the top of the window
and then click Accounts.
2. When the Internet Accounts window opens click on the Mail tab .
Click on mail properties
3. Click on the advanced tabs as below.
4. Change the port to 587.
5. Click Apply, then click OK. Close the Internet Accounts window.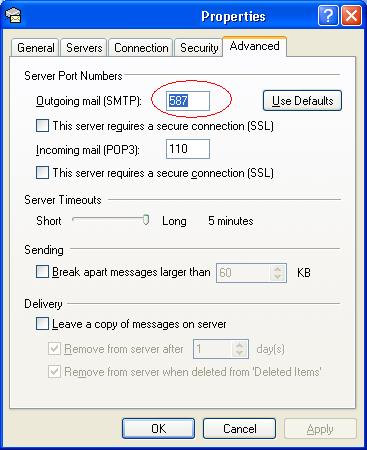 Microsoft Outlook
1. Open Microsoft Outlook and and go to Tools - Email Accounts…
2. Double click on your e-mail account > More Setttings
3. Go to Advance tab, under Outgoing Server (SMTP) , change the port 587.
4. Click OK, then Next, then Finish.

Mozilla Thunderbird
1. Open Thunderbird Mail. From the Tools menu select Account Settings.
2. At the left pane, select the entry Outgoing Server (SMTP).
The Outgoing Server (SMTP) Settings appear on the right.
3. Edit to the port to 587.
4. Click the OK button.